Ward 6A - psychiatric for hospitalization at an active state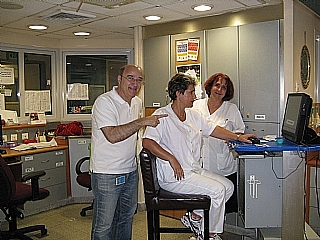 Head of ward:
Dr. Zvi Kirsch
04-8559327
Department Secretary
Ms.

04-8559331

Fax. 04-8559759

E-mail:
sabin.manor@pstira.health.gov.il
Head nurse:
Ms.
04-8559748
Psychiatry specialists
Dr.
04-8559339
Dr.
04-8559447
Social workers
Ms
04-8559328
Work days Sunday - Thursday
Ms.
04-8559328
Psychologist:
04-8559334
Work days Sunday, Tuesday, Wednesday, Thursday
Occupational Therapist
04-8559345
Work days Sunday - Thursday

Visiting hours at the ward:
In the morning - from 12:00 to 10:00
And in the afternoon - from 20:00 to 2:00 p.m.

Public reception by various staff members will by prior arrangement.

Nurse Station Phone
Restricted wing
04-8559725
Open wing
04-8559326
Public phone at the ward
Open wing
04-8574400
Restricted wing
04-8571609
Ward description:
The ward is an active psychiatric ward that treats patients aged 18-62, suffering from a wide range of mental disorders, including: Schizophrenia, affective disorders, organic disorders, personality disorders, addictions, and other psychoses.

The ward includes a closed wing with 16 beds designated for patients in acute (severe) condition who need a protected facility.
The open wing includes 18 beds and is designed for providing follow-up treatment. Total of 34 beds.

The department also treats people towards their full release from hospital, who continue to be treated as outpatients.

Treatment approach: Holistic with focusing on the patient's needs. Includes various types of treatment:
Psycho-pharmacological treatments, dynamic psychological treatments, behavioral group therapy,
Treatments for developing skills through occupational therapy, rehabilitation programs in the employment and social fields, treatments by means of: Movement, music, psychodrama, and treatment of addictions and comorbidities.


Every patient is assigned with a principal personal therapist, and a treatment manager as necessary, who is responsible for managing the treatment as prescribed by the multidisciplinary staff, after the diagnosis and treatment plan formation.

Treatment groups:

Under the supervision of the nursing staff;
Therapeutic cards

Aesthetics

Preparation for leaves

Sports

Nutrition Workshop - guided by a clinical dietitian, the goal of the workshop is to develop healthy eating habits.
Classical music listening workshop - directed by a pianist from the occupational therapy staff.

The ward provides follow up clinic treatment to patients who need follow up and monitoring during the period of the first month after their release. The treatment is provided by the ward's staff.
Training:
The ward is recognized for General Psychiatry internship by the Scientific Council of the Medical Association.
The ward serves as a center for learning and experiencing for a wide variety of students from different fields, including
Medical, social work, psychology, criminology, occupational therapy, movement therapy and art therapy students.

Research:
Research is conducted at the ward, headed by Dr. __________, which examines the impact of landscape architecture as a lever to improve the quality of life, health and healing of mentally ill inpatients, which would improve the physical environment for the sake of patients.

Research projects are conducted at the ward, in collaboration with academic centers, in the field of comorbidities and use patterns of psycho-active substances among the mentally ill population, study of violent behaviors among psychotic patients, as well as studies in the field of psycho-pharmacology, and in the field of treatment efficacy and clinic follow-up.

The ward provides legal opinions at the request of the court for the purpose of determining fitness to stand trial.