Ward 2 - psycho-geriatrics (psychiatry of the elderly)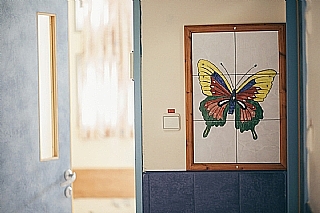 Head of Department:
Dr. Vered Tal
04-8559291
Department Secretary:
04-8559286
Fax: 04-8559271
E-mail:
eti.sasson@pstira.health.gov.il
Ward Head Nurse:
04-8559709
Psychiatry Specialists:
04-8559284
04-8559288
Psychologist:
04-8559381
Social workers:
04-8559290
Sunday to Thursday
04-8559357
Employment counselor:
04-8559705
Ward visiting hours:
10: 00-12: 00
16: 00-20: 00
Nurse Station Phone number:
04-8559292
04-8559287
Pay phone: Inside the ward
04-8571800
At the ward entrance lobby:
04-8571500
Public reception by various staff members: By prearrangement.
Ward description:
The patient population includes men and women aged 65 or older, who suffer from mental disorders that require treatment in a hospital setting. Hospitalization at the ward is available to people from across the country.

The ward's structure on the one hand provides a protected environment for inpatients (closed ward), yet exit to the yard, to the complex area, or even vacations outside the center may also be permissible, depending on the patient's mental state.

According to ward's treatment philosophy each patient is treated and guided by a multi-disciplinary team - namely elderly psychiatry specialists, skilled nursing personnel, a social worker specializing in elderly patients and an occupational therapist. Each of the professionals contributes his/her own unique angle in the diagnosis and treatment setting processes. If necessary, a "case management" is appointed, who concentrates the treatment provided to the patient and his family from his arrival to the ward and until his release.

The diagnosis and treatment approach is extensive and does regards the patient as a single individual, but refers to each person in a wider context. This approach considers the support system, living conditions and particular needs of each and every patient. Potential resources in his environment are evaluated - such as his rights in terms of social security, Ministry of Finance, housing and welfare services, non-material resources within the family - and recruiting these forces and resources in favor of healing and integrating within the community. This treatment model involves family members in the process, and according applications are made to entities and factors in the community.

The ward maintains daily activities such as occupational therapy, group therapy, group exercise and play, guidance for basic daily functioning and encouragement to lend and read books.
Training:
The ward is recognized for of General Psychiatry internship by the Scientific Council of the Medical Association.

Special projects in the department:
A group meeting of all patients and staff members, which enables direct communication and problem solving regarding hospitalization conditions and daily living conduct at the ward.

The ward's nursing staff operates therapy groups in the following areas:
Preparation for functioning during hospitalization leaves, medication, healthy nutrition, cooking, diabetic group.

Therapeutic PE twice a week under the guidance of a professional sports coach for the elderly.

Task group for promoting eating habits and table manners - intended for long-term patients with functional difficulties. Guided by the representative of the Fund for Care of Dependents.

Movement therapy - group therapy provided once a week under the supervision of a senior movement therapist.
Yiddish Theatre performances at the ward several times a year.

Holiday, events and party galas.
In addition to treatment, hospitalization at the ward also includes the services of a clinic providing follow-up treatment to inpatients, functional skills diagnosis, direction to suitable frameworks if necessary and social interventions.