The center's vision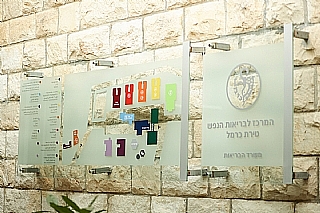 Maale Hacarmel Mental Health medical Center is a center for treating people suffering from mental distress and disorders, which regards the patient at the core of its professional activities. The team leads the medical/mental treatment of patients of all age ranges with the aim to balance and improve their mental state in times of crisis, and to return them to a setting of living within the community. Our therapeutic work is carried out with respect for human dignity and freedom, exercise of his rights in keeping with the law and medical ethics, and while honoring his faith, culture and customs.
Our goal is to provide quality medical care in an environment that provides a service experience that is both human and professional.
Missions
Improving clinical results as per the quality measures established by the Ministry of Health and the targeted improvement plans of the hospital.


---

Improving the experience of the patient and his family within a supportive, high-quality and safe environment, while providing an optimal solution.


---

"Zero tolerance" to any behavior which is not ethical or safe.


---

Promoting a culture of quality and safety and developing the staff of the Medical Center as a learning organization.


---

Establishing a safe, promoting and productive environment for the staff, while maintaining acceptable standards and national standard requirements.


---

Promoting initiatives and actions that lead to improved and more streamlined work processes and work environment, while emphasizing the processes of learning and professionalism, and while using advanced technologies.


---

Preserving and enhancing the human capital by encouraging the staff to take part in training courses and continuing education programs in the academic center and outside it.


---

An academic center for the training of physicians, nurses, health care and treatment professions from Israel and abroad.