Psychiatric clinic for adults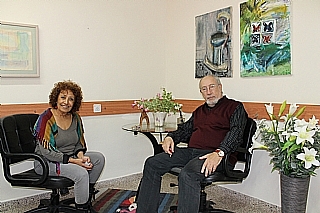 The adults outpatient clinic at Maale Hacarmel Mental Health Center operates as a central ("Parent" Clinic), while there are also extensions in the community. The clinic provides clinic services (without hospitalization) in the field of mental health to adults over the age 18 in need of diagnostic procedures, treatment, and guidance in the field of mental and emotional disorders. The service is free of charge.

In addition, the clinic serves as a hub for community extensions at Kiryat Motzkin, Nesher, Kiryat Tivon and Atlit. The clinic serves a wide-area population that includes patients from Haifa, its suburbs, Nesher, Kiryat Tivon, Tirat Hacarmel, Atlit, Hof Hacarmel, Daliat El Carmel and Ussafiya.

Referral methods:
Referrals are made by community physicians, welfare offices, rehabilitation facilities, other psychiatric clinics and the emergency room, hostels and sheltered housing. Personal applications are also permitted.

Please contact:
By phone: 04-8559256 Sunday-Thursday between 07:00-14: 00
By Fax: 04-8559714
By post, to the following address: Adult Clinic, Mental Health Center, 17 Haela St.
Tirat Carmel, zip code 3911917

The service is free of charge.

The clinic employs a multidisciplinary team that includes:

Psychiatric physicians (specialists and interns in adult psychiatry), specialists and interns clinical psychologists, clinical social workers, psychiatric nurses.

Types of problems treated at the clinic:
Affective disorders: Depression, Bu-Polar illness (manic-depression) and more.

Anxiety disorders: General anxiety, panic disorders, obsessive-compulsive disorder

Social anxiety and more.

Crisis and post traumatic disorders.

Psychotic disorders.

Behavioral disorders, including in special populations.

Various personality disorders, such as: Frequent mood swings, difficulty in communicating with those around, withdrawal etc.

Comorbidity Disorders.
The essence of the service:

The clinic operates based on teamwork, which includes psychiatric and psychological follow-up and rehabilitation processes, with wide reference to emotional and social aspects, family roles and more. The diagnostic process is conducted by a multidisciplinary team and includes multi-team discussion aimed at deciding on a treatment. Staff provide according to need: Psychiatric follow-up, social care that includes rehabilitation in the areas of employment, housing, social and leisure, psychological counseling, guidance provided by a mental health nurse, including house calls (if necessary), couples' and family interventions and more.

Specification of the treatments:
Psychiatric follow-up and a combined medication/support treatment.

Group psycho-therapeutic treatment, with a wide variety of groups for the various problems.

Day care treatment that includes rehabilitation workshops at the hospital.

Support and guidance in all rehabilitation processes.

Individualized psychotherapeutic treatment in a dynamic integrative orientation.

Individualized targeted therapy for post-traumatic situations, in a cognitive-behavioral approach.

Couples' and Family Therapy.

Care and Training for parents and family members - individualized and group.

Treatment by treatment coordinators, including assistance vis-a-vis external agencies.

Psychodiagnostic diagnoses

Providing opinions to the court.

Advising care providers- welfare services, rehabilitation facilities, hostels and protected housing, general medical services.
Specification of therapy groups and support groups:

Story Group:
In this group they presents short literary pieces, which allow the group's participants to get closer to the personal experiences that they experience in their souls and in everyday life. In this group one learns to listen to the emotional experiences, to express them and consequently to live with them more acceptably. The group is a source of support and encouragement of therapeutic processes among its members.
Group therapy can be joined at any time.

Group meetings are held once a week on Mondays at: 8:30 to 9:30.

Guided by ______ - clinical social worker and _____________- clinical psychologist.

Therapy-support group for people over the age of 40:
This group hosts people who go through different life crises. The group's objective is to enable its members to share emotional experiences, dilemmas and various contests.

The group is a place where members can vent their feelings, review events within their inner and outer world, get exposed to similar experiences of other members of the group and learn and gain encouragement from it. The group is a source of personal growth and development.

Group therapy can be joined at any time.
Group meetings are held once a week on Mondays at: 2:00 PM to 3:00 PM.
Directed by _____________ - a clinical psychologist.

A support group for families of patients:
This group hosts relatives of the mentally ill. The group engages in supporting the family, allowing empowerment and learning ways of coping with the illness of their ill family member.

The group enables sharing experiences and feelings that are common to its members and thus encourages effective coping and growth.
Directs and provides knowledge related to processes of rehabilitation, encouraging independence and knowing the relevant frameworks in the hospital and in the community.

The Group is open to receive more participants - parents, siblings, children and spouses of people with mental illness.
The group's meetings are held once every two weeks on Mondays - from 2:00 p.m. to 3:30 p.m.
Directed by ___________ - a clinical social worker and psychologist.

Life Quality improvement group:
The group is for people who find it difficult to cope with daily life. The group provides advice on improving the relationships with one's family and friends, problems at work, coping with financial difficulties and improving self-esteem.

The group's meetings are held once a week on Mondays - from 11:00 p.m. to 12:00 p.m.
Hosted ___________ - Clinical Social Worker.

Youth group:
The group is for participants between the ages of 18-35 who are dealing with mental and emotional difficulties.
The group advices the participants on topics such as: Couples' and family ties, integration in the employment world, studies, and independent living, while processing emotional experiences.

The group is an open group, which meetings are held on Mondays - from 14:15 PM p.m. to 15:15 PM p.m.
Hosted by: __________ - a psychologist, social worker and psychotherapist.

A support group for people who have experienced mental breakdown:
The group is for people who suffer a mental crisis, including people who were hospitalized in the past.

The group engages in a wide range of topics: Stigma, social relations, medications and side effects, and daily functioning.
Group therapy can be joined at any time.

The group's meetings are held once every two weeks on Sundays - from 11:00 p.m. to 12:00 p.m.
Led by Dr. Michael Menuchin - Adult Clinic Manager.

Rehabilitation supportive care group:
The group is for rehabilitees struggling with mental illness.
Members' ages ranged from 30-60.

The group supports and assists the process of rehabilitation. Aids in the development of self-awareness, managing symptoms, knowledge of the drug therapy, enhancing communications capabilities, improving social relationships, knowledge of community rehabilitation options.
Group therapy can be joined at any time.

The group's meetings are on Tuesdays - from 11:00 p.m. to 12:00 p.m.
Hosted by: ___________ - a clinical social worker, ____________ - RNBA community nurse.

Academic Activities:
The clinic accepts for experiencing and training in the field of psychiatry students studying medicine, psychology, social work, and nursing, who take part in the actual work.